See what our customers say
We use the independent customer rating service, eKomi, to collect and evaluate feedback from our happy clients. Click on the eKomi widget or hover your cursor over the widget to see what they have to say about us.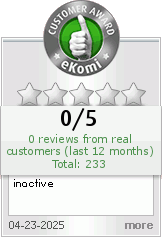 Data recovery with proven success
Ontrack has performed over 500,000 successful data recoveries.
Our data recovery specialists will exhaust all options to recover your data. Backed by the world's largest R&D team, they have the knowledge and ability to create custom data recovery solutions.
Our services are tailored to your needs
If your storage suffered physical damage – recovery in Cleanroom labs is the only option. For other data loss scenarios we can perform fast and secure Remote Data Recovery or send our team of experts for on-site recovery. Pick the right option for you.
Know what can be recovered before paying for a full recovery
We want you to know what you are paying for before you agree to and pay for a full recovery. Each evaluation includes a Verifile™ Online Data Report which lists the recoverable files and the condition of each. This will be included with your final price quote so you can see exactly what you are paying for and make an educated decision.
Your data recovery is in safe hands
We respect personal and critical data. When you entrust your data to Ontrack, you can know that we'll take every precaution to guard it like our own.
Ontrack is the global pioneer of data recovery, trusted by 50,000 people and businesses in similar situations, including NASA, who trusted Ontrack to recover data from the Columbia Space Shuttle.
Track your recovery
Our customers have the ability to track their data recovery every step of the way. Get updates 24 hours a day 7 days a week with our Ontrack® Online™ customer portal. You will receive a login once your contract has been accepted and your media is received in by us.
Logical failures
Logical: If your hard drive is working, but you cannot access some, or all of your files, then it is experiencing a logical failure. Try our DIY data recovery software, Ontrack EasyRecovery.
Try it for free
Please provide details of your data loss
Your data recovery specialist will call you within 30 minutes (7AM-6PM CST Monday-Friday). You will receive a service order number instantly after submitting. After business hours, you will be contacted the following business morning.
The information contained in the form above is used for the free consultation to assess your data loss and determine solutions and pricing options. Kroll Ontrack does not supply customer information to other third party marketers.